Empowering Women-led Households
$58,865.68 of $350,000
Your help is needed 3 fold! So we can continue to serve and do our transformational work at Agape; help with many unexpected expenses; help with remodeling 4 office condos into 8 housing units.
Thanks for your help and prayers over the last 10 years!
Your continued support (or gift) will have a real and immediate impact in the lives of our women and children. A one-time gift or a recurring monthly gift will help our continuing efforts to meet our families' Program and support needs. Any amount is very helpful: $25-$75/month helps with recurring family expenses and gas cards to keep families moving; $100-$200 helps with utilities; $500 helps with housing and mortgages.

We need a continued stream of income to keep homes running smoothly, kids clothed, cars maintained, and school expenses paid, so our ladies and moms can stay focused on a path of rebuilding their lives.

Please consider helping with our Program Funding, or our Remodel Project

You will be able to select where you'd like your donation to be used. Upon donation checkout, you will see a section titled "Use my donation to support". Using the dropdown list, you may select, "Where it is needed most", "Program Funding" or "Remodel Project".

Program Funding: The cost to provide life-changing support to 1 family for 1 year is ~ $27,000. We serve, on average, 25 – 30 households/year.
$10K housing costs, including utilities, internet, insurance, average repairs and maintenance.
$4k child and youth care, including tutoring and mentoring.
$4k transportation support.
$4k education, including reskilling, upskilling, vacation training, budget coaching.
$5k health and wellness support, including counseling.
Remodel Project: By the end of 2023, Agape will add 4 transitional housing townhomes to help the increasing number of homeless women and children. We will be remodeling 4 office condos into housing units. The new units will provide homes for up to 8 homeless women-led families and children.

Thank you!

You've walked this journey with us for 10 years! Thank you for your prayers and help! Agape has provided "Home, Help, Hope" for over 260 women and children who have been able to live into God's plan for them. With your continued prayers and support, here's to 10 more years!

Achieving Self-Sufficiency through Homes, Help, & Hope
Since November 2013 when Agape opened its first house in East Plano, it has grown from 2 beds and a crib to supporting on average 30 families a year in 6 owned and 3 rental units with 55 beds. Since its inception, Agape has provided over 76,000 nights of housing and hope for 262 souls, including 111 women head of household families with 151 children.
Of those families served, 68 women (76%) with 84 children have graduated with jobs that enable them to provide homes and stability for their children whose past experiences no longer define their future hopes.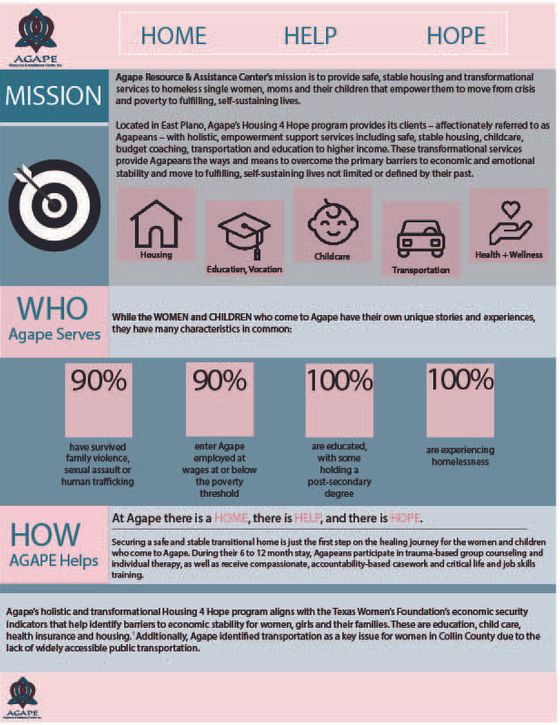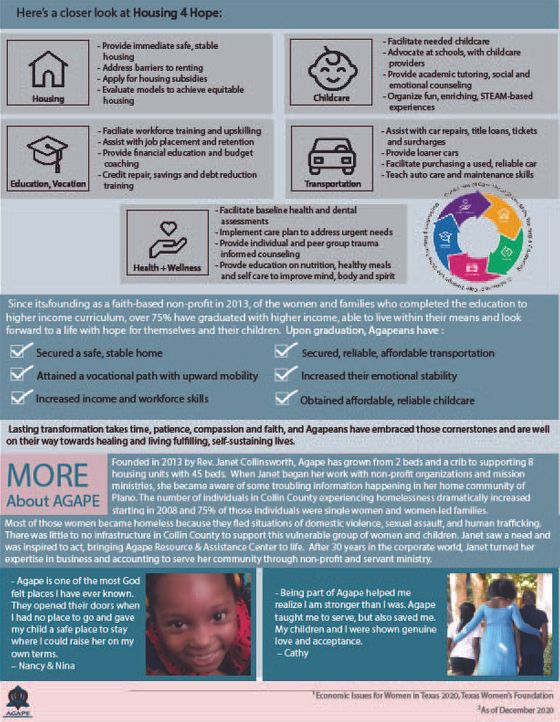 Thank you so much for your transformative gift! Every dollar makes a life-affirming impact!
Agape Resource & Assistance Center, Inc. is a tax-exempt public charity (federal tax ID #75-2942035). All contributions are tax deductible to the extent allowable by law. No goods or services were provided in exchange for your generous financial donation.