Empowering Women-led Households
$35,442.26 of $50,000
In addition to our current monthly gifts, Agape's goal is to raise an additional $15k to continue to provide homes, help, & hope to women-led households that are working toward self-sufficiency. These additional funds help with unexpected expenses.
Your gift directly impacts women and children through
Our Vocation & Job Placement advocate provides workforce education to increase skills to help secure higher paying jobs. Our Budget Coach teaches financial literacy, budgets, etc. These services give a foundation for self-sufficiency upon graduation.
For women to work, they must have dependable childcare. Childcare expenses are stressors for working moms. From May-Oct CCMS ran out of funds & Agape paid for childcare to ease the burden. Agape also pays for childcare during the application period.
Women need transportation to work, get kids to school/daycare & take care of basic life needs. Agape's Mobility Program provides Agape owned cars as loaners. Agape maintains the cars & pays for insurance. Graduates can purchase a car at 0% interest.
Achieving Self-Sufficiency through homes, help, & hope
Founded in 2013, Agape has grown from 2 beds & a crib to supporting 8 housing units with 45 beds. As of 11/2021, Agape has provided homes, help & hope for over 200 unduplicated souls. Over 70% of the women Agape has served have graduated with increased job skills, higher paying jobs, transportation & budgeting skills that enable them to provide homes & stability for their children so the whole family can overcome the oppression of their past & move into a self-sustaining future with hope.
Pre-COVID, Agape required women to have a job. Now, we help women get & keep jobs. Average income at entry is $10/hr or $15K-$20K /yr, well below the poverty level. A primary goal of Agape is to empower women to achieve self-sustained living through workforce training & job placement & financial education & coaching. Agapeans graduate with the ability to afford stable housing, childcare, transportation, and make between $30K-$40K/year. Of the 70 families Agape has served, 46 women (82%) with 59 children have graduated with jobs that enable them to provide homes & stability for their children.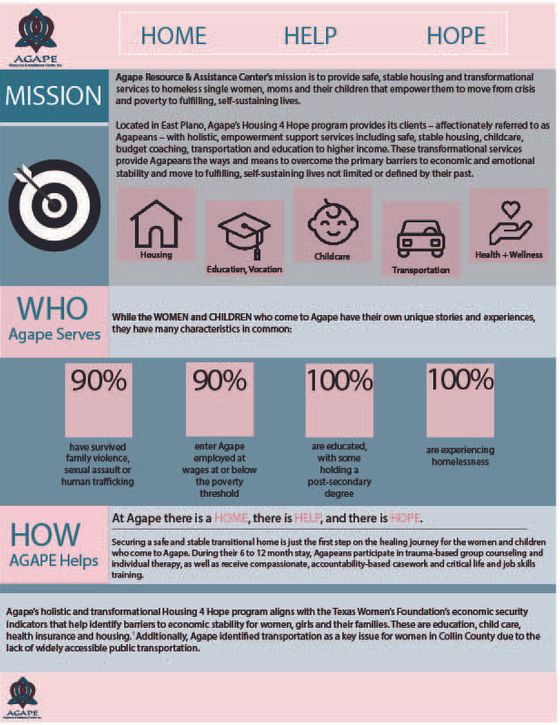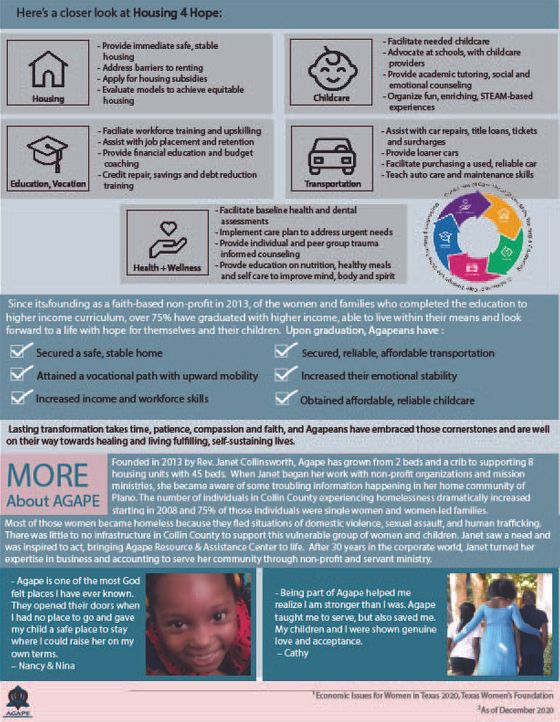 Thank you so much for your transformative gift! Every dollar makes a life-affirming impact!
Agape Resource & Assistance Center, Inc. is a tax-exempt public charity (federal tax ID #75-2942035). All contributions are tax deductible to the extent allowable by law. No goods or services were provided in exchange for your generous financial donation.